Step 1. GET A QUOTE
We need your information especially your "Nearest Seaport" or "City Name" that you based in.
After checking the sea freight to there, we will inform you the estimated total cost to export.
Of course we will be happy to accept FOB/EXW basis if you hope.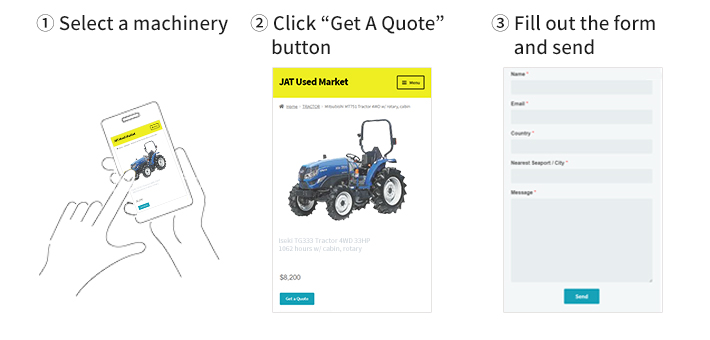 Step 2. PRO-FORMA INVOICE
If you agree with the estimated total cost, you can request Pro-forma Invoice.
Once you receive Pro-forma Invoice, sign it and send it back to us by Email.
Then we will hold the machine for you.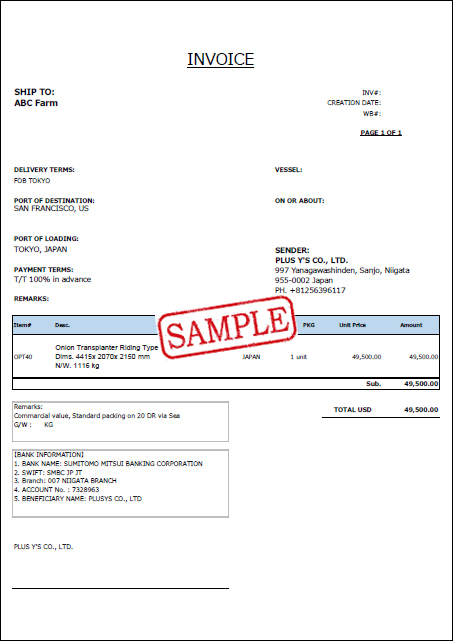 Step 3. PAYMENT
Customers can send payments directly via wire transfer from their bank to JAT's bank.
Print the Pro-forma invoice and make 100% payment at once by T/T (Telegraphic Transfer) Remittance.

Our Bank Details
Bank Name: SUMITOMO MITSUI BANKING CORPORATION
Branch: NIIGATA BRANCH
Beneficiary Name: PLUSYS CO., LTD
Account Number: 7328963
Swift Code: SMBC JP JT
After you make the payment, send a T/T copy (copy of bank receipt) by Email.
After you send us a T/T copy, we will remove your machine from our web site.
Conditions:
*We accept only in USD or JPY for bank transfer.
*All bank transaction fees must be paid by the buyer.
*Please put the invoice number when sending T/T.
Step 4. BOOKING YOUR MACHINE
Please send us the *consignee details (name, address and phone number) of your machine. We start to arrange the vessel for your machine as soon as we confirmed your payment.
*Consignee : The party shown on the bill of lading or air waybill to whom the shipment is consigned. Need not always be the buyer, and in some countries will be the buyer's bank.
Step 5. SHIPPING SCHEDULE
We inform you the shipping schedule *ETD (departure) and **ETA (arrival). The shipping notice (name of vessel / schedule) are changed sometimes due to some reason that delay of ship.
*ETD: Estimated time of departure
**ETA: Estimated time of arrival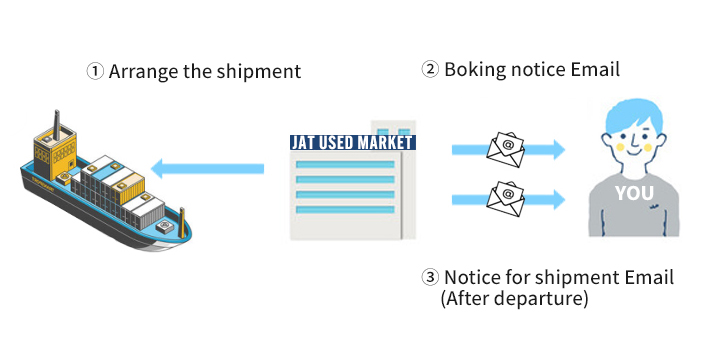 Step 6. BILL OF LADING (B/L)
After ship has been departed from Japan, we'll send you a copy of B/L.
Shipping company will send us B/L document 10 to 12 days after the shipping departure.

Step 7. DISPATCH B/L DOCUMENTS
In case we ship by DHL or FedEx, a tracking number and link will be notified to you immediately.
(Enclosed document : First and third B/L's, Invoice, De-registration certificate and certificate of inspection. We will keep the second B/L in our hand for just in case.)
Step 8. CLEARING
You need a clearing agent with all the documents to organize your import.
If you don't have any clearing agent, our partner can clear your machine and transport it from the port to your place.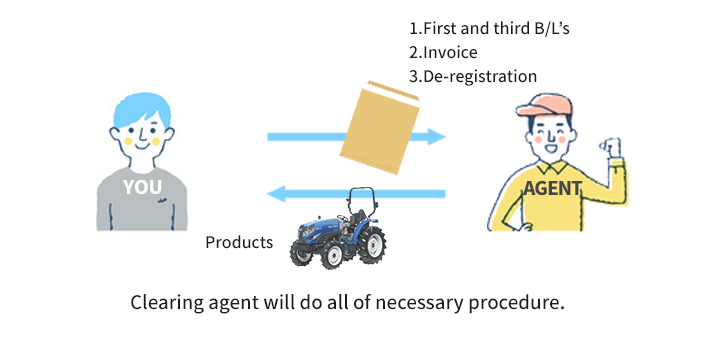 Step 9. REVIEW THE MACHINERY
After receiving your machine, please send us a review for next order.